CAIRNS TERMITE INSPECTIONS
Protect your investment
Cairns Termite Control
Cairns home owners and property investors understand that we face many unique risks living in tropical North Queensland. Our rainforest surroundings and timber Queenslander homes can be a dangerous mix, if the correct termite managements systems are not implemented.
If your home is not properly protected, you either already have subterranean termites, or there is a good chance that you will soon enough. The only way to stop termites is an invasive process that requires the application of hundreds of litres of toxic spray under and around your home. Right? Not anymore! 
Imagine all this being replaced by the application in a closed and locked station of a termite bait, containing a few grams of an active ingredient that is less toxic than table salt. Welcome to the future of termite management – termite baiting with Exterra.
Exterra Systems are perfectly suited to Cairns termites and the Cairns environment, so talk us today about protecting your property and investment.
The Exterra System – Termite Interception and Baiting System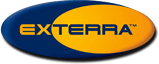 Low Toxicity – Environmentally friendly
Until recently, the almost exclusively used method of termite management was the application of a chemical termite barrier. The application of such a barrier to your home would typically involve spraying large volumes of toxic and environmentally persistent chemicals around and under its foundation in close proximity to you and your family. But Exterra radically changes all that. And as important as Exterra's environment friendly features are, they're just a big bonus. Exterra's greatest advantage compared to chemical barriers is its ability to eliminate the actual source of your termite problem – the termite colony itself.
The Exterra Termite Interception and Baiting System is a systematic, multi-step termite management method. Australian field trials have clearly demonstrated the effectiveness of the system in controlling subterranean termites in Australia.
The Exterra System represents a true paradigm shift in termite management. Conventional approaches to termite management can be likened to treating the symptoms of a disease but not the actual disease. Exterra in many ways is akin to treating the actual disease. Exterra even offers the possibility of curing the "disease."
THE EXTERRA SYSTEM ON YOUTUBE
The Exterra System – Termite Interception and Baiting System explainer video.